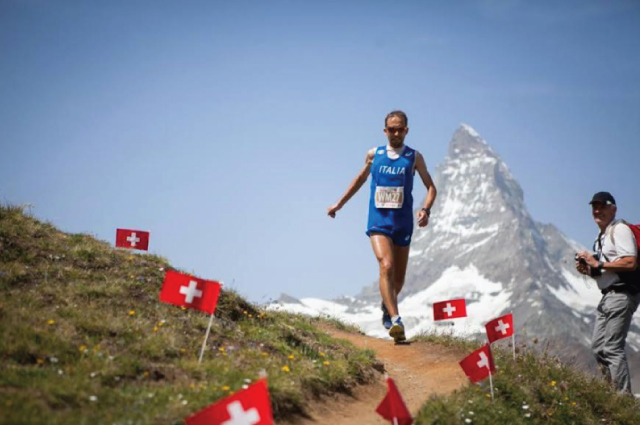 Long distance athlete, from Pavia, born the 5th of April 1980.
The chapter of my web site called "Close and far stories" couldn't start different than the story of a guy that I appreciate a lot…and that grew up in my same street!!! To me he is a real example of passion, dedication and purity about sport, Tommaso brings a story to tell because it can be font of inspiration for every boy and girl. Mountain Run World Champion in Zermatt (Switzerland) in July 2015, he gives us very interesting thoughts and perspectives.
"During the past 20 years spent in the athletics I collected many convocations to represent and prestigious placements during important races….overall the Individual World Title in the specialty of Long Distance Mountain Run in Zermatt, in 2015.
My personal best are 2h19'48" in marathon, 1h6'in half marathon and 30'44 in 10000 meters in track.
I got my best results, in Italy and abroad, by running marathons and hill races, I won: Monza-Resegone, Biella-Oropa, Monte Faudo, Bormio-Stelvio, Corripavia.
I have started running for fun and like a challenge against myself, simply trying to run for long time and discover till where I could arrive without any stop. Since I was teenager I used to run a lot through the Ticino Park (a natural area along the river of Pavia) and one day I really surprised myself and I arrived till the intersection with Po river (about 20 km far from Pavia)….During high school I had a very good professor of Physical education, Sergio Zilio, who pushed me to keep going with athletics cause I had pretty good results in the cross races, even without any specific training. I had big impact also from cycling, when I was a boy I did very long excursions on the road with my cousins till the hills of Oltrepo (Pavia area is very variegated) and I already felt very comfortable in uphill. For example, when I was 18 I took part (as not competitor) to an ultra (long distance) race with many and tough hills riding for more than 5 hours!
At the end of the high school I chose to dedicate to running, as cycling rider I couldn't have found the time to study at the University. My first coach was Felice Costante (trainer at the University Athletics Team in Pavia); he immediatly noticed my endurance characteristics and made me start very early with marathons, I was 21 years old. The approach to marathon was very positive and motivational, in running I have found also a very nice and clean ambient, far from doping scandals that were ruining cycling during that times. During the next years I progressively improved on the road and track, but in uphill I discovered to have something more than my training teammates and opponents, even if Pavia is not in the mountains. So, in 2009 I decided to try more specific trainings for exalting what I discovered as my talent. In 2010 for the first time I wearied "la maglia azzurra" (the uniform of Italy) in the World Championship of Mountain Run in Slovenia, a dream come true. Parallel I was graduated as physiotherapist and I started to work, so I had less time to train but I felt serene to run with the maximum focus but without the pressure of competing every weekend or seeing running as my job. In the following years goals and trainings have changed, I started collaboration with Gigi Tettamanzi and Flavia Gaviglio, former athlete of the national squad of Mountain Run. I was able to combine the abilities got in years of marathons with the predisposition for the uphill run…till reaching a never imagined goal, the title of World Champion in Zermatt. Today, if I look back that this long way was amazing, even if right now I am injured with my knee and I hope to come back competitive as soon as I can cause I have no finished my passion and will to run and sweat.
I think I did a lot in athletics but I made also mistakes – for sure I didn't care enough in running technic when I was junior and some injuries were a limitation to me and I didn't care and manage as I had to. I also introduced  nutrition and osteopathic treatments quite lately in my career.
It will be long time to be back competitive after a long stop, also cause I'm not so young anymore, but I think I have the right will and experience to try!"
These are beautiful words by a man who put himself, since very young, in approach with nature, through the simplest activities as running for fun and curiosity and cycling for the company of his cuisines. He was a boy able with sacrifice and passion to build up his own career, with agonistic spirit and full determination.
I want to underline two moments of this story – the ability to recognize a strength point, a talent and work on it in specific, by signing a trainer specialized in Mountain Run. In sport careers is essential to push on the strength points and relying on good and specialized coaches, Tommaso had a super intuition! Second and precious thought is about the fact that he didn't invest enough time and care for his running technic; from the evolutionary age till 16/18 years (in my opinion) it's very important to dedicate time for making improve at best technic and working on the efficiency of the gestures, in every sports!
Thanks so much Tommaso, the best wishes for a full recovery and for going and getting some more satisfactions and emotions by running!