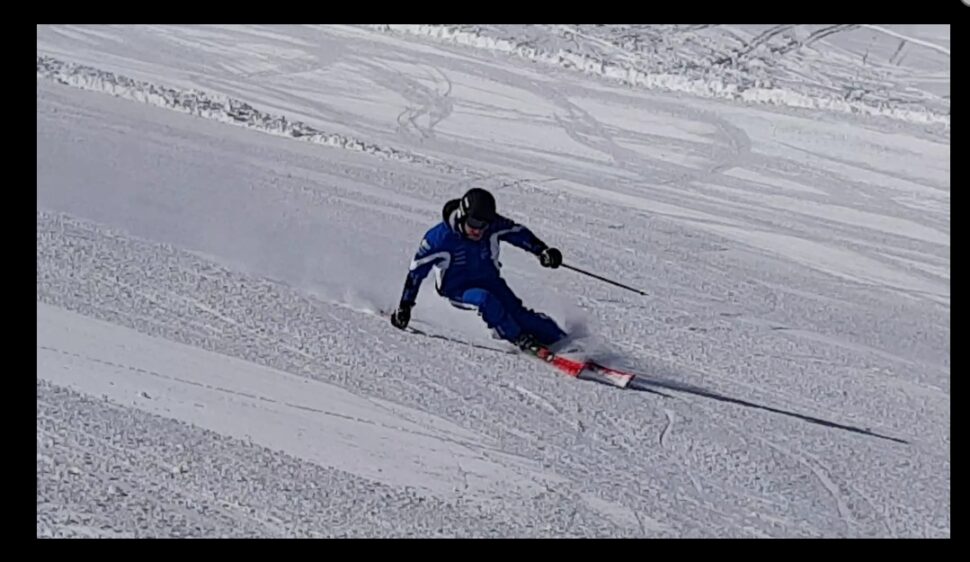 During the last four years I experienced an unbelievable process with Marco, a ski instructor of the 1996 who, in the name of love for the Dolomites, has asked a lot to his body and his commitment. Few years ago a puny and reserved guy, thanking a flash of inspiration, convinced himself to try let his passion become a profession; but for this goal he knew he had to train and focus with absolute determination. Now, after four years, countless hours of training and not few obstacles to overcome (to get into a Ski Academy is a very hard selection in Italy) Marco can share his fire and teach this wonderful sport to his pupils…with a top physical condition!
This looks like the common story telling that goals that start from heart and are deeply felt can build up amazing roads. Those aims, very well described by Marco in his article, can be reached through discipline and daily will to overcome personal limits.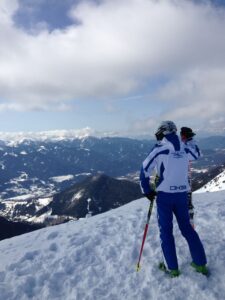 Honestly I find it difficult to place myself in a geographical area of Italy, not for personal reasons, having been born in Milano and grew up in Pavia, but because of the strong connection I have with the mountains where I have always skied. "You only miss the German language and then you are 100% from South Tyrol", my colleagues often say. So, I'm a '96 class, I attend the University of Pavia at the Faculty of Pharmacy and, as you understand, I'm madly in love with mountains and skiing. I think this is the most direct and clear description I can give of myself, because for me the ski activity was born and raised with me as a lifestyle and not as a simple hobby or pastime.
I started skiing as a child, 4 years old, at the Alpe di Siusi (Südtirol) and it must be admitted, as I have often seen on the other side as instructor, the beginning was neither the most peaceful nor the least stressful for my parents and teacher. However, the very first memory that accompanies me, is the image that encloses the first steps on the snow of anyone who approaches skiing as a child: teacher bends on her knees holding with one hand the clamp on the tips of the skis of the student (who obviously does not yet know what he is doing nor why). All the memories run in my mind and then mix each other as key moments of my beginnings: learning how to make the "ladder", making the curves, the endless falls and taking the lift for the first time. My first real progress revolves around the latter. For those unfamiliar with the skilift, this consists of a plate that, placed in the legs, under the buttocks, pulls you to the top of the track. In the specific case of the Alpe di Siusi plant, the last 10 meters are made in an increasing ascent to the point where you have to release the plate. Well, my very personal challenge at the time was to delay as much as possible the moment when I would have to grab the hook of the ski lift with my hands in order to be able to hold me during the climb. The more I resisted, it meant I was getting better and gaining confidence on the skis. I remember the satisfaction I felt on the day I managed to complete the climb without the help of my hands (and also the burning of the legs worthy of Alessio's best workouts!). This skilift is exactly the same even 20 years later and, now, when I take it to the tail of my ski school students, I observe them on that same climb, trying to figure out if they are following up on my old challenge. The desire to test myself and the magnificent feeling of freedom that skiing has always given me are what have made this sport so important to me. For many, myself included, there is the dream of flying and, in my case, there is no feeling closer to flight than the one that gives you a high-speed curve, being attached to the ground with only a ski foil of a few millimeters. And what about when you decide to get off the track and face the fresh snow? Adrenaline, euphoria and freedom in its purest state. All framed by the Dolomites, which, with their landscapes, have imprinted in my memory every single memory related to the mountain and certainly helped to make me so dear to skiing. So many years as a student have passed, including courses, cutlet lunches, a few moments of fatigue but infinity of entertainment that make pale what may have been the difficulties of the beginnings. I have always lived skiing as an escape from the city, the mountain as an escape from the plain, until the end of high school. When I ski any other thought or problem disappears and appears much more manageable when I return to face it.
One day in winter 2015, as we descended from Alpe with the cableway after a day of skiing, I was asked by my mother, why not take it a step further and make it a profession? Over the years, both mine and the masters had rushed me this hypothesis because of my attitude to skiing, but I had never taken them seriously until then. It must have been exhausted or because I had just started university and so I was more inclined to new things, but that day a new challenge came to me and I decided to take it.
So I got my first approach to the routine of a master assistant at the school camp, which consists of making ladders, holding the tips, teaching the children, who put the skis for the first time, to make the snow plough and brake. I found out right away that I liked it and I was surprised at how, downhill after descent, I was able to actually see progress in the students. However, when I sat down at the end of the day, it took me 5 minutes of rest to find every single muscle blocked by lactic acid and it was this fact that also made me realize that I needed to start a well-structured training program so that I could become a good athlete, even before a good skier and then submit to the next tests. At the beginning of the autumn of 2016 I then undertaken the path of athletic preparation with Alessio, who, understanding from the beginning what had to be done, made sure to make me first of all able to build a base on which to work. One of Alessio's best trainer skills, which I have had to observe about myself, is to be able to structure the training program in the long run, predicting which and how many steps to insert in order for the athlete to achieve the ability to do certain things. His very first speech, at the first session, was about proprioception, as a skill not innate but developed through training. After 4 and a half years and many proprioception exercises in the middle, I can only give him complete reason. Balance aside, the workouts have always been at 360°, going to involve both strength and endurance, both elasticity and stability. Personally, among the most memorable sessions, I note those on the sand of the beach-volley field where I embarked on a challenge in parallel with that of the skilift in the days of the ski debut: resist a series of shuttles more than the previous time. For me, training has not only become a mere preparation for the ski act but a real expression of my willingness to push myself beyond the limits I had until the previous day, but, above all, of how commitment, perseverance, discipline and dedication can lead you to improve in everyday life. In fact, as a result of this project, I learned to adapt all aspects of the day related to it, including nutrition.
From a practical point of view, the athletic preparation gave me the awareness of my physical abilities, so that I could modify my skiing at will and endure the enormous stresses that certain exercises, such as off-piste humps, bring to the body. Athletic progress is undoubtedly the basis of all skis because, without self-awareness and physical abilities, it is not possible to achieve important goals in a sport as technical and that takes place at high speeds as skiing. The simple fact of having sensitivity in the foot, when it is locked inside a boot, is the key behind every good skier. This is where proprioception helps.
However this speech applies to anyone and any sport that wants to bring you to a high level. What I would advise is based on what I have experienced firsthand: it is not easy, it is not simple and it is not obvious that we get results proportionate to the amount of commitment put into it. Nevertheless, trying 100% is infinitely better than doing it at 30, 60 or 99%. You always have to give your best to have no regrets about what could have been if… As far as I'm concerned, I would like to add that fun must always remain an integral part of what takes place and you want to achieve. This season, although interrupted prematurely due to quarantine, I was finally able to practice as an official ski instructor and there was no day when I did not enjoy the moment, when I did not enjoy teaching children, teens and adults. It's not been a day when the drive that passion for skiing has given me since I started 20 years ago. Fortunately (and also proudly) I can say that I was right to put it all in myself, seeing the smiles and thanks I received in return from all the students I had this year.
Now my goal is to return as soon as possible to be able to train with all the charge that Alessio taught me and that also rethinking the whole path made while writing this text passed on to me. I certainly still have many things that I want and I have to improve from an athletic point of view, because even the path of promotion within the career of a master is far from over. In the future I hope to be able to find a way to reconcile graduation and skiing in one place, without having to live in separate places. What is certain is that I can't wait for next winter to welcome old and new pupils on the slopes of the Alpe di Siusi.